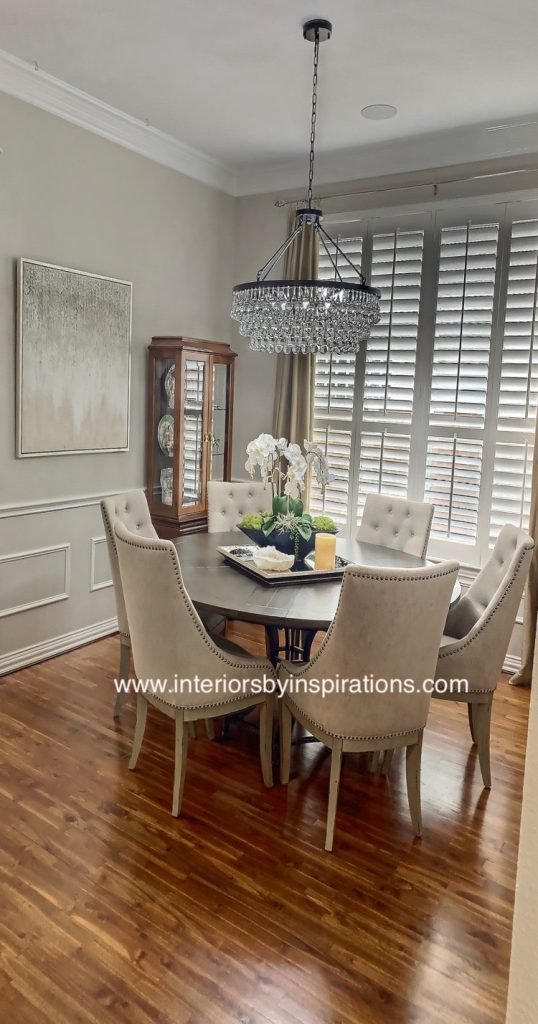 Inspirations Interiors owner, Elena Johnson, based in Flower Mound and serving Denton County, believes your home should be your refuge from the world, a cozy and inviting place to welcome friends and family as well as a place you are proud to call your own.
If you look around the interior of your home and find yourself dissatisfied, frustrated or bewildered by how to decorate or remodel, you could benefit from the creativity of Inspirations Interiors.
Elena has expertise in:
remodeling and refacing bathrooms

remodeling and refacing

 kitchens
custom window treatments
wood and tile flooring
decorating home interiors
decorating office interiors
She can also assist you in choosing:
paint colors

for furniture, trim, walls, cabinets and ceilings
fabulous wallpaper for a feature wall
accessories, art, and lighting
new furniture or rearranging your furniture
You can decide to:
have her shop for your accessories and bring the stores to you
point you where and what exactly to shop for at certain online or in-store design sources
shop the stores with Elena
No matter which option you choose, you can be confident your spaces will be cohesive, beautiful, unique and personalized when finished.
Elena will confidently work within your budget, whether limited or limitless, to achieve the outcome you hope for. Together, we will dream and explore what style best suits you, your lifestyle, and your home. Design can be enjoyable and exciting when you partner with Inspirations Interiors.
Elena offers hourly design consultations to provide a client with ideas to address areas in your home that are baffling. Elena brings technology, catalogs, paint wheels and 19 years experience to your consultation to help you visualize the project and gives you the inspiration and ideas needed to decorate or work with your contractor.
Whether you have a small project or an entire house to decorate or remodel, trust Inspirations Interiors to walk you through the entire process. What projects do you need assistance with in your house? Contact Elena. Together, we will transform your house into a beautiful home.